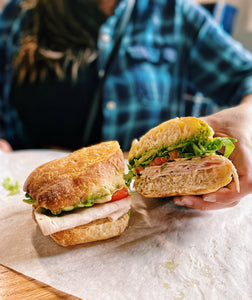 Cafe Menu - Order for pick up
More than gelato - try our panini, sandwiches, espresso drinks, and smoothies! Our café is located in the River Arts District of Asheville, NC, at 99 Riverside Drive. Come walk the Greenway along the river and stop by for a bite. We look forward to serving you!
Order for Cafe Pick UP
We make it easy to feel good about your food choices.
Organic sugar. Dairy from small North Carolina farms. That's what you'll find in our gelato. We don't buy a pre-made gelato base made by an outside company. That means there is never factory-farmed milk in our gelato. You can rest easy knowing that we thoughtfully source every single ingredient.
Dairy or Not, here we come!
We make creamy and innovative flavors of non-dairy, vegan-friendly gelato, too! Try our Dark Chocolate or our Mango or Raspberry Sorbet!
Shop Non-Dairy